Joslyn Levell longed for a dance partner.
Yet no one would accommodate, until Bears sixth-round pick
J.T. Thomas
-- an outside linebacker from West Virginia University -- stepped in after a chance meeting. Thomas asked Levell out for the date of a lifetime Friday night at the Suncrest Middle School prom in Morgantown, W.V.
An engaging 14-year old who listens mostly to pop music, but extols the verbal ferocity of rappers Lil Wayne, Drake and her favorite, Eminem, Levell seems like most teenage girls obsessing in Twilight, the latest gossip and fads.
[+] Enlarge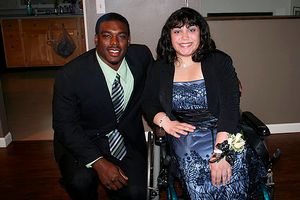 Courtesy of Rochelle ThomasBears draft pick J.T. Thomas took Joslyn Levell, who has spina bifida, to her junior high prom on Friday night.
However, she's anything but average. She knows it. She owns it.
"She's a cool little girl," Thomas says.
But unlike most little girls, Levell also has spina bifida, a birth defect which occurs -- according to the Spina Bifida Association of America -- in seven of every 10,000 births in the United States, and confines her to a wheelchair.
Read More ....